October 2020
Hello Friends!
Happy October! This month is a BIG one for us at BBBS of Central Mass & MetroWest! We are gearing up for our first-ever virtual event, The Big Night In. The online auction portion of the event will be opening just days away on October 19th! You can register for that here. Click "Start Bidding" to register. We also hope you join us for the live-streamed event on October 29th at 4:00pm. Learn more below under Special Events.
With the holiday shopping season right around the corner, we'd also like to remind you to use AmazonSmile when shopping on Amazon. With AmazonSmile, a percentage of your purchases will support your favorite charity. To choose BBBS as your charity of choice, follow the steps below:
When shopping on Amazon, use this link: smile.amazon.com
Under Your Account, select Your AmazonSmile to set-up Big Brothers Big Sisters of Central Mass/Metrowest as your charity.
Add smile.amazon.com as a button in your browser toolbar to make shopping on AmazonSmile easy!
We hope you enjoy reading about our Match Spotlight and Program Highlight below. Thank you for taking the time to read our October newsletter and for standing with us to defend the potential of over 1,000 children!
Warm Regards,
The Team at Big Brothers Big Sisters
This month, we are spotlighting one of our very special matches, Liz and Shanty. This match is so special to our family of Bigs and Littles because they recently celebrated their 10 year match anniversary! When Shanty was first matched with her Big, she was only 6 years old. It's hard to imagine that she's now a 16 year old, high school student! Liz and Shanty first met as part of our Worcester Area College Mentoring Program. Liz was a student studying at Holy Cross and volunteered to be a Big Sister. After Liz graduated from Holy Cross, the match transitioned to our Community Mentoring Program - and the rest is history!
Since being in the Community Mentoring Program, their relationship has grown. Together, they enjoy pumpkin carving, apple picking, going to Sky Zone, and trying new foods from different countries. One of their favorite memories was a trip they took together to see the Blue Man Group show. To celebrate their 10 year anniversary, Liz and Shanty got together, exchanged gifts, and reflected on how much they've both changed and grown in 10 years.
Liz and Shanty are always ready to help out our organization! From volunteering at The Big Celebration to more recently, allowing us to feature them in a video for the Big Night In, they are always excited to participate! Congratulations on 10 years matched!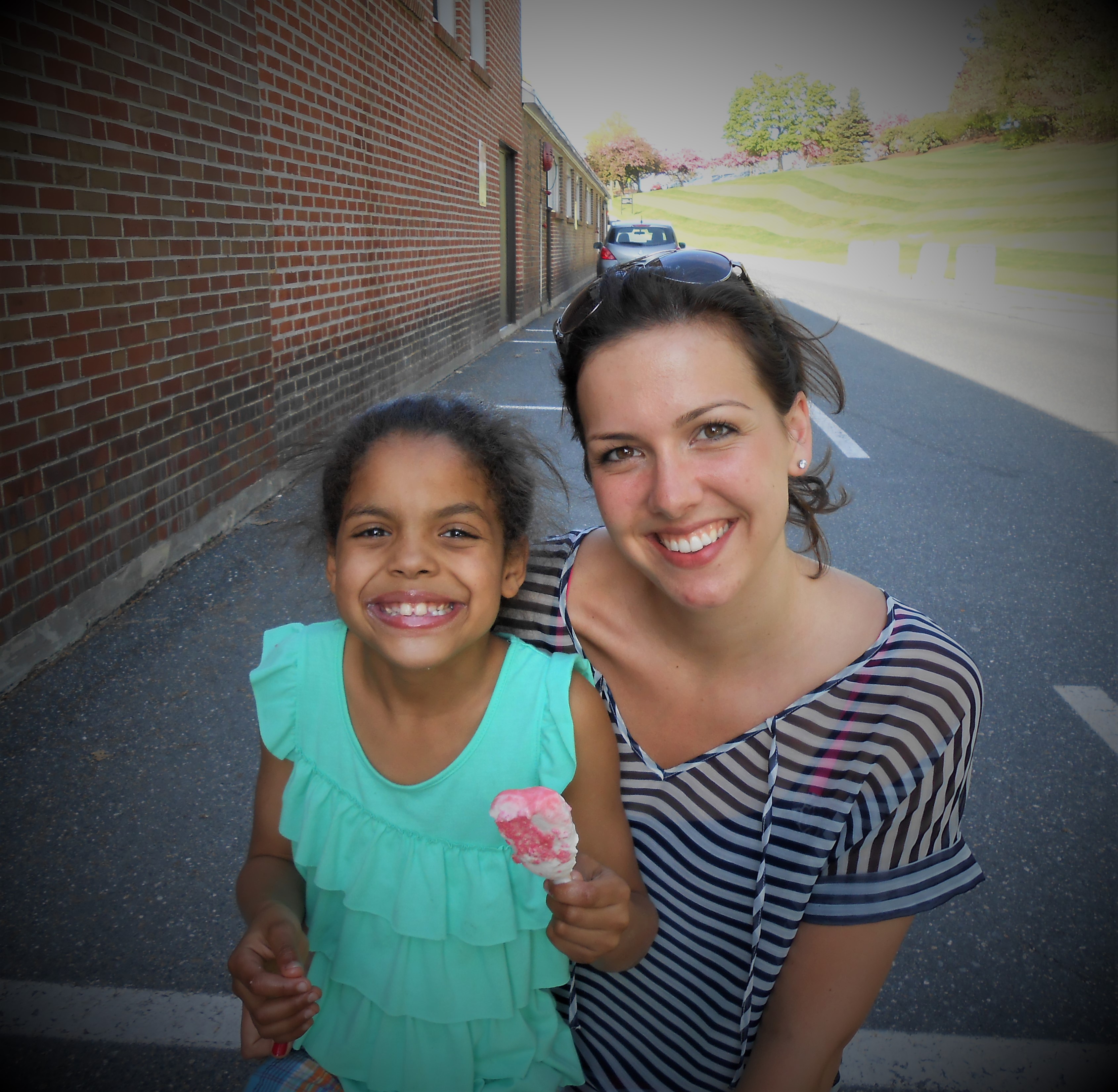 Liz and Shanty at Holy Cross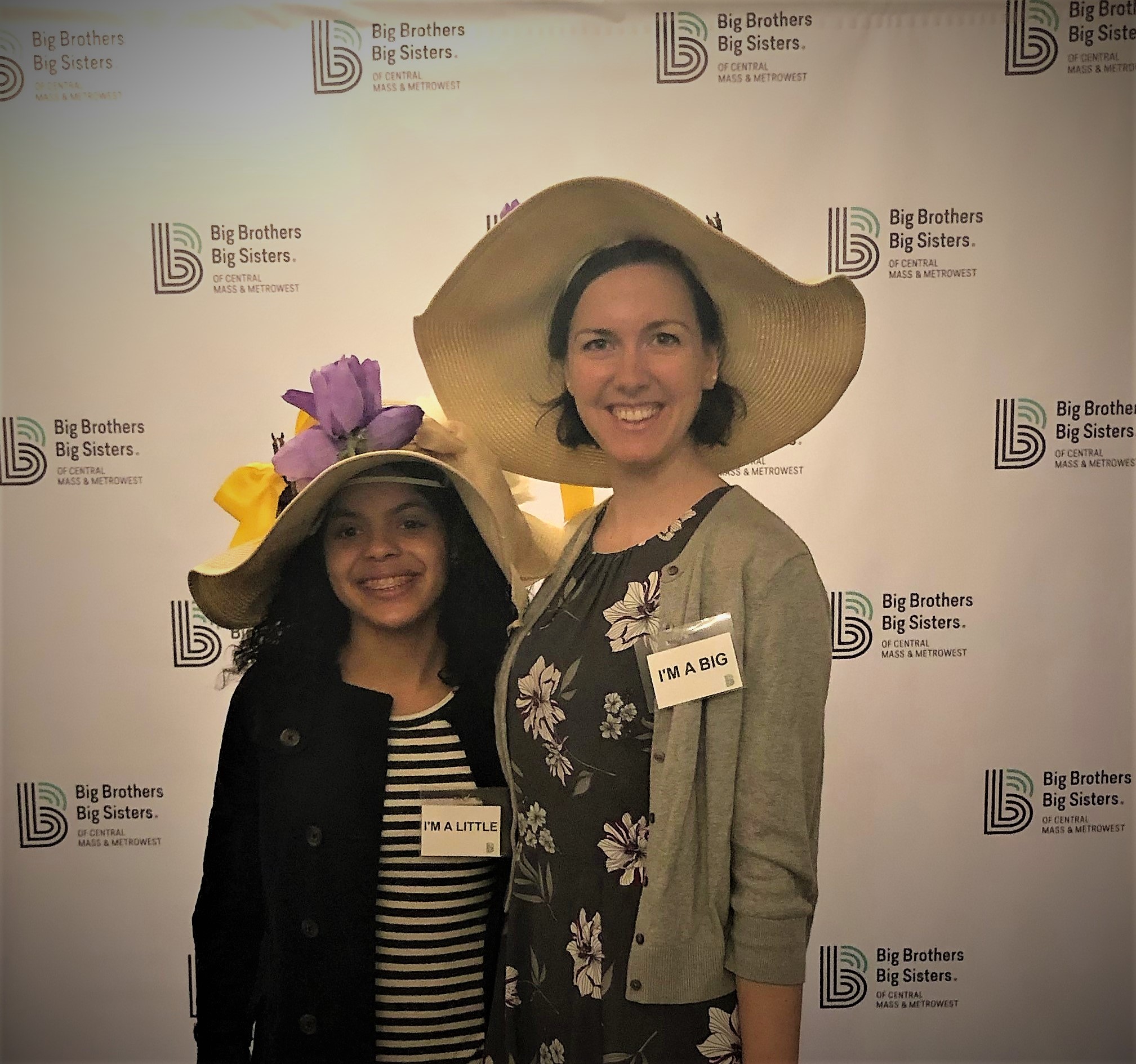 Liz and Shanty Volunteering at The Big Celebration in 2019
This month we are highlighting a program that we call BBBS C.A.R.E.S. Often during evaluations and match-support meetings, BBBS staff become aware of situations in which a child or their family need more services in addition to mentoring, so we created BBBS C.A.R.E.S. (Creating Access to Resources and Emergency Support). Through this initiative, we can connect our families with other supportive agencies that provide critical items needed by families, such as food, clothing, emergency loans, holiday help and other support to help get them through challenging times. By providing these types of services to the families engaged with Big Brothers Big Sisters, we aim to decrease the stresses that children may experience at home. Our referral service partners are Cradles to Crayons and Axuda to provide the resources some of our families desperately need.
This Spring, when our world changed due to the Coronavirus pandemic, we soon realized that our families were being affected. We decided to set-up an Emergency Relief Fund to provide financial support to the families we serve. Staff members apply on behalf of their families they work with to receive emergency relief. We are honored that we've been able to support 30 families with a stipend since launching the program in June. We will continue the Emergency Relief Fund alongside the BBBS C.A.R.E.S program as long as their is a need.
The Big Night In | October 19-29
We invite you to our first-ever virtual event, The Big Night In! Since we were not able to host The Big Celebration, our annual Spring Gala in 2020, this is the next best thing!
We will be hosting an online auction starting October 19th and will be celebrating with a virtual event on October 29th at 4:00pm which will be live-streamed from our Youtube channel. To register for the event, visit here and click "Start Bidding."